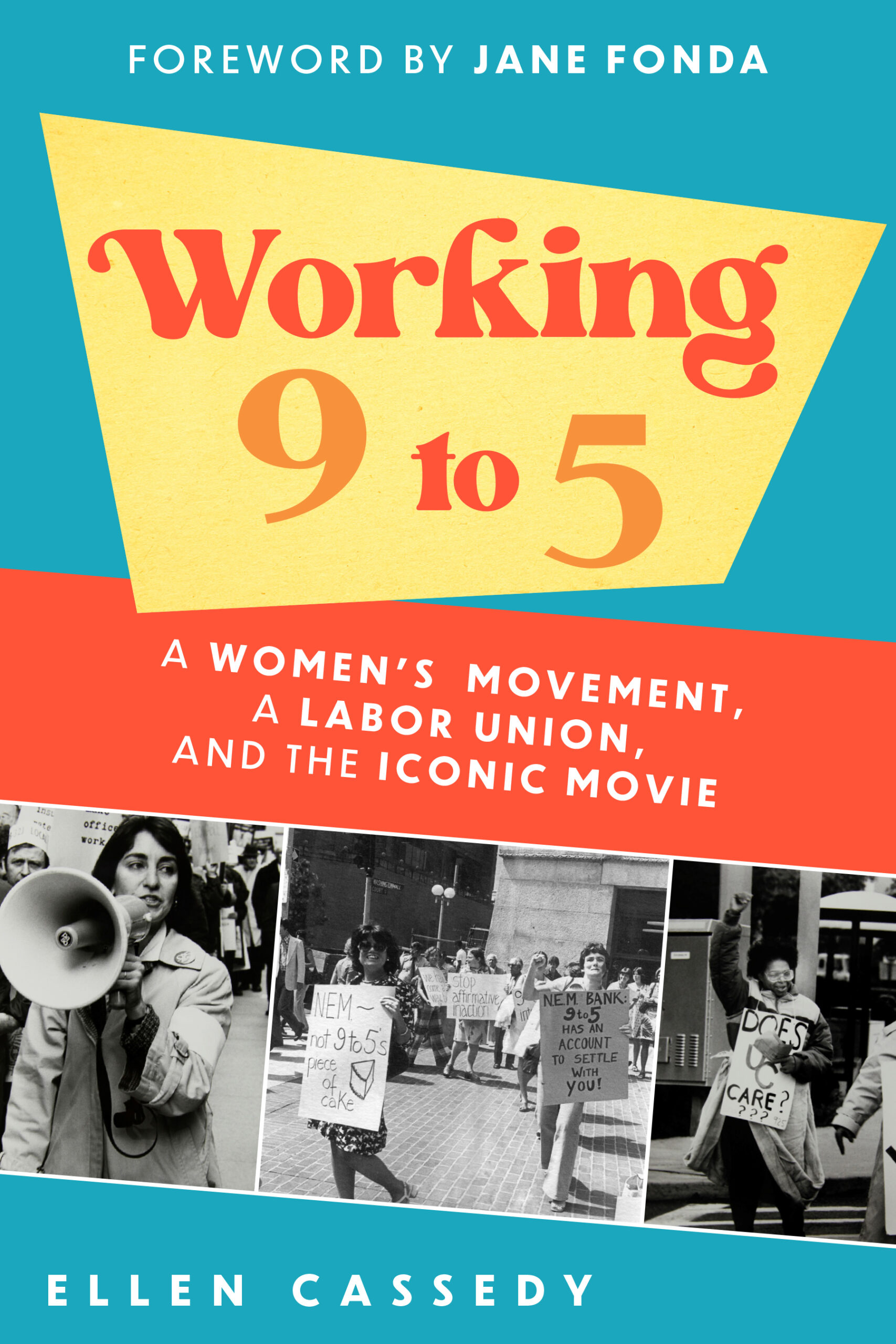 Ellen Cassedy
on Working 9 to 5
(one minute)
Listen to National Public Radio's show on how the 9 to 5 movement inspired Jane Fonda's movie.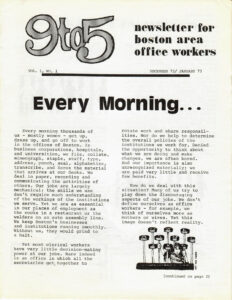 Ten office workers in Boston started out by sitting in a circle and sharing their problems. Within a few short years, they were organizing across the country, running a new union called District 925, and winning job improvements at banks, insurance companies, universities, and more.
As Jane Fonda says in the foreword: "They surprised themselves, and they surprised the world. Their story will move you and inspire you."
In the process, they transformed themselves. They learned to speak up, run meetings, reach out to coworkers, and plan campaigns. Ellen tells the story of how she and others grew as feminist organizers and leaders.
Humor was always a big part of their activism. And when one tactic didn't work, they schemed and dreamed and came up with another. They never gave up.
Today, as an upsurge of worker activism takes on new challenges, this book can help inspire a new generation.
Shortlist, 2022 Sarton Award for Memoir
Gold medal, 2023 Independent Book Publishers Award
---
Praise for Working 9 to 5
"In her latest work, feminist trailblazer Ellen Cassedy takes us through her journey as a founder of the 9 to 5 movement, where ten brave women came together to take a stand against sexism in the workplace. Their battles fought at the intersection of the women's movement and the labor movement are even more relevant today, making Working 9 to 5 a must-read for any activist or reader in search for a piece of inspiration."
— LIZ SHULER, President, AFL-CIO
"A fresh and timely resource for labor educators that underscores the power of workers to change conditions inside and outside the workplace."
— MARY BELLMAN, President, United Association for Labor Education (UALE)
"If we organize we can change the world. This book gives us a detailed and personal view of how a determined group of women organized and achieved more than they ever imagined."
— HEATHER BOOTH, Founder, Midwest Academy
"An engaging first-person look at a group of amazing women who changed workplaces across America. Cassedy takes us back in time, lets us feel the thrill and uncertainty, the courage and verve of the small band of women who spoke the truth they saw, learned to organize, and broke the mold of the obedient secretary."
— JULIA REICHERT and STEVEN BOGNAR, Academy-award-winning filmmakers of 9 to 5: The Story of a Movement and American Factory
"The women of 9 to 5 were gutsy and creative. Their story can inspire a new generation fighting for fair pay and fair treatment."
— SARU JAYARAMAN, President and Co-Founder, One Fair Wage
Author, One Fair Wage: Ending Subminimum Pay in America
"The women of 9 to 5 were among the first in modern labor history to model the significance of community/labor partnerships, not simply as a general alliance but as a necessity to build worker power and women's power in the face of racial and gender discrimination. We are their legacy. And we owe it to them to continue the fight."
— ERICA SMILEY
Executive Director, Jobs With Justice
Co-author, The Future We Need (with Sarita Gupta)
"History we can learn from, and be inspired by. The women of 9 to 5 joined together for respect, recognition, and rights, paving the way for so many of today's organizing efforts for economic and gender justice."
— AI-JEN POO
Co-founder and Executive Director, National Domestic Workers Alliance
Co-founder and Director, Caring Across Generations
Co-founder, SuperMajority
"We at the Fight for $15 stand on the shoulders of women who organized before us. The story of 9 to 5 is inspiring for organizers today!"
— CIARA FOX, The Fight for $15
"Working 9to5 imbues social history with practical knowledge about movement-building and the day-to-day work of collective power. The timing for this book couldn't be better – as labor's popularity surges, especially among young workers, people are seeking exactly these kinds of stories for inspiration and guidance."
— MICHELLE MILLER, Co-founder and co-executive director Coworker.org
"Women, especially women of color, have always been brilliant and uncompromising labor leaders. Working 9 to5 brings to light the often hidden stories of these women. In the midst of a powerful upsurge of worker activism, this book provides critical history to support a new generation of women organizing for justice, dignity and power."
— PAMELA SHIFMAN, President, Democracy Alliance
"If the pandemic has surfaced any one truth, it's that American women are the spine of the workforce, and also the first to fall prey to its inadequacies and injustices. With Working 9 to 5, longtime organizer, activist and truth-teller Ellen Cassedy expertly guides us through the women's labor movement from its modern roots to the present day, highlighting the double-binds and second shifts, the hidden injustices and the manifest change that organizing can bring about. Anyone who thinks about gender, labor, and equality will be grateful for this comprehensive look at where we've come from and what comes next."
— DAHLIA LITHWICK, Senior Legal Correspondent, Slate
"In these days of hard times for unions and workers, it's good to have Ellen Cassedy to remind us of a struggle that looked pretty hopeless when it started but made a big difference. Women's work is still undervalued and underpaid, so what are we waiting for? Read Working 9 to 5 for the story of a not-so-distant past that could help us figure out how to make a better, fairer future."
— KATHA POLLITT, The Nation
"…an entertaining and occasionally enraging reminder of just how long and hard the fight for women's equality has been."
— Publishers Weekly
"…tells the story of an enormously effective group of women who intended to transform the world of working women and did."
—The Rag Blog
"…describes what it took to awaken thousands of women… the lessons from the work described in this book are important… concludes on a note of hope." – Jane LaTour, New York Labor History Association
"Read this book. It will give you hope, lots of gasps of astonishment, and laughter." – Somerville Times
"compelling…fascinating…" – Provincetown Independent
"…tells the story of 9 to 5 in straightforward, unfussy chronology…crucial for today's young activists." – Broad Street Review